Wie ihr sicherlich schon mitbekommen habt, war ich für eine Woche in Dubai…
---
As you have probably already noticed, I was in Dubai for a week…
Den Flug für Sonntag, den 29.01. habe ich zwei Tage vorher am Freitag. gebucht. Spontan oder? Daher hatte ich nur den Samstag Zeit um meinen Urlaub vorzubereiten und meinen Koffer zu packen. Eigentlich wollte ich schon 2016 hinfliegen, jedoch hat es leider zeitlich nicht geklappt. Eine sehr gute Freundin von mir, die Bengi, wohnt seit Januar in Dubai, wodurch ich sie besuchen konnte.
---
I have booked tickets for a flight on Sunday, the 29.01. two days earlier on Friday. Spontaneous or? So I only had time to prepare my trip and pack my suitcase on Saturday. Actually I wanted to fly to Dubai in 2016, but it didn't work. A very good friend of mine, Bengi, lives in Dubai since January, so I also was able to visit her.
My Dubai
Nach einem 6-Stunden Flug bin ich am Montag in Dubai gelandet. Am Flughafen habe ich den Görkem kennengelernt. Bei ihm war der Urlaub genauso spontan wie bei mir. Nachdem wir uns etwas unterhalten haben, beschlossen wir die Woche zusammen in Dubai zu verbringen.
Nachdem Görkem und ich, Bengi dann von Zuhause abgeholt haben sind wir erstmal was Brunchen gegangen am Dubai International Financial Center (DIFC). Im Anschluss ging es zur Dubai Mall und Burj Khalifa. Das Wetter war traumhaft – 27°C – um die 30°C Unterschied zu Deutschland… Am Abend waren wir dann mit Berk, den ich durch Bengi kennengelernt habe, in einem griechischen Restaurant was essen.
---
After a 6-hour flight, I landed in Dubai on Monday. At the airport I met Görkem. He also decided to have a spontaneous holiday like me. After we had a talk, we decided to spend the week together in Dubai.
Görkem and Me picked Bengi from home and went for a brunch to the Dubai International Financial Center (DIFC). After brunch we went to the Dubai Mall and Burj Khalifa. The weather was gorgeous – 27 ° C –  up to 30 ° C difference to Germany… We went to a Greek restaurant for dinner with Berk, a Friend of Bengi.
Tag 2
Der 2. Tag fing super an, wir sind zum Barasti Beach Club gefahren und haben uns erstmal am Strand gesonnt. Der Beach Club liegt an der Media City von Dubai und ist umgeben von Skylines. Nachdem Beach Club ging es zum Hafen – Dubai Marina.  Sehr schöne Kulisse. Dienstagabend waren wir dann im Four Seasons Hotel was trinken mit einer Mega Aussicht auf das Burj Khalifa.
Das beste Wetter war für Mittwoch vorausgesagt: ca. 30°C, so haben wir den Tag am Jumeirah Beach Residence (bekannt auch unter "JBR") gestartet. Vor Ort besteht die Möglichkeit, nachdem Sonnen, zu Duschen. Am JBR haben wir erstmal lecker Pancakes gebruncht. Mittwochabend sind zur Bar 360 gegangen – welches eine Wahnsinns Aussicht zum Burj al Arab, das 7 Sterne Hotel, hat.
---
Day 2
The 2nd day  started super, we drove to Barasti Beach Club and had a sunbath on the beach. The Beach Club is located at the media city of Dubai and is surrounded by skylines. After Beach Club we went to the port – Dubai Marina. Very beautiful scenery. Tuesday evening, we were for a drink in the Bar of Four Seasons Hotel with an awesome view to the Burj Khalifa.
The best weather was predicted for Wednesday: around 30 ° C, so we have started the day at the Jumeirah Beach Residence (also known as "JBR"). On the spot it is possible to have shower after beaching. We brunched tasty pancakes at the JBR. At night, we went to the bar 360 – which has an amazing view to the Burj al Arab, the 7-Stars-Hotel.
Tag 4
Am Donnerstag ging es erneut zur Dubai Mall, da ich für die Reise am Sonntag nach Abu Dhabi zur Sheikh Sayed Moschee einen Qamis kaufen wollte. Um ehrlich zu sein, habe ich die ganze Zeit in Dubai mit essen verbracht… In der Mall haben wir dann auch gleich mal Künefe (türkisch/arabische Süßspeise) mit Eis und Pistazien gegessen. Gegen 19 Uhr ging dann am Burj Khalifa die Lichtershow und die Wasserspiele los. Das lohnt sich definitiv! Im Anschluss sind wir zur Fashion Avenue, in der die ganzen Luxus-Marken ihre Stores haben. Im Café FAUCHON gab es noch dann das berühmte "Lotuskugel"-Dessert – definitiv #foodporn…
---
Day 4
On Thursday we went again to Dubai Mall, because I wanted to buy a qamis for the trip on Sunday to the Sheikh Zayed Grand Mosque in Abu Dhabi. To be honest, I have spent all the time with eating in Dubai… At the Mall, we ate Künefe (Turkish/Arabic dessert) with ice cream and pistachios. About 7pm the light show and the water games started at the Burj Khalifa. It's definitely worth! The Fashion Avenue, where the whole luxury brands have their stores, is located in the Dubai Mall. There is also the FAUCHON Café, where I enjoyed the famous "Lotus ball"-Dessert – definitely #foodporn…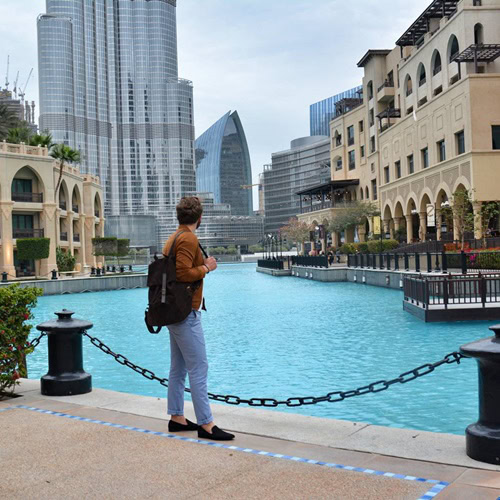 Frühstück Level 7
Für Freitag war schlechtes Wetter mit 17°C vorausgesagt, so haben wir uns, nachdem Freitagsgebet, auf dem Weg zum W Hotel gemacht um im Level 7 zu brunchen. Ihr solltet wissen, dass in Dubai das Wochenende am Donnerstag losgeht, also das der Freitag in den Emiraten bei uns ein Samstag ist. Das Buffet im Level 7 war sehr vielfältig. Es gab alles Mögliche an Speisen, frischer Sushi, italienische Küche und natürlich jede Menge Fleisch. Auch die Auswahl an Desserts war sehr groß! Die Getränke sind über das Servicepersonal bestellbar. Hier empfehle ich euch den Erdbeercocktail (genauen Namen habe ich leider nicht mehr im Kopf). Bei so einer riesen Auswahl und einer Hammer Location mit bester Stimmung im Restaurant haben wir den ganzen Tag im Level 7 verbracht. Die Aussicht auf den neu eröffneten Kanal in Dubai ist auch einmalig.
---
Brunch Level 7 
On Friday, bad weather with 17 ° C was predicted. After Friday prayers, we went to the W Hotel to brunch at the Level 7 Restaurant. You should know that in Dubai the weekend starts on Thursday, so Friday in the Emirates is a Saturday in Germany. The buffet at the Level 7 was very diverse. There were all sorts of dishes, fresh sushi, Italian cuisine and of course lots of meat. The selection of desserts was great! The service staff will take care of you with drinks. Here I recommend the strawberry cocktail (unfortunately I don't know the exact name). With such a huge selection and best mood, we spent the whole day in the Level 7 – an awesome location. The view to the new canal in Dubai is also unique.
Essen & Nachtleben
Wie einige von euch auf Instagram bzw. Snapchat gesehen haben, war ich bei Salt Burger essen. Diese Burger haben es definitiv in sich! Wenn ich sage, das waren die besten Burger die ich jemals gegessen habe, wäre es nicht gelogen. Falls ihr mal in den Emiraten seid, kann ich es euch nur empfehlen dahin zu gehen! Das Menü kostet, je nach Auswahl, umgerechnet 25€ aber jeder Cent lohnt sich! Die Lage von Salt Burger in Dubai ist direkt am Kite Beach. Was ich zum Nachtleben sagen kann, die Getränkepreise sind nicht vergleichbar mit Deutschland. Zwei Red-Bull Dosen und ein Gin-Tonic haben um die 50€ gekostet, dafür entfällt jedoch der Eintritt.
---
Food & Nightlife
As some of you have seen on my Instagram or Snapchat, I've been at Salt Burger. This Burger definitely have it in themselves! When I say they were the best burgers I've ever tasted, it wouldn't be a lie. If  you're in the Emirates, I can recommend it to go! The menu costs , depends on what you take, about €25 – but it is worth every cent! The location of Salt Burger in Dubai is right at Kite beach. What I can say to the nightlife is, the drink prices are not comparable with Germany. Two Red Bull cans and a gin-tonic cost around €50, but usually no entry fee.
Letzter Tag
Am Sonntag war die Abreise aus Dubai nach Abu Dhabi, da auch mein Rückflug vom Flughafen Abu Dhabi war. In Abu Dhabi sind wir direkt zur großen Sheikh Zayed Moschee gefahren. Diese Moschee ist einfach atemberaubend! Sie ist, wie manche Emiratis vor Ort sagen: "Ein Palast!". Empfehle es echt jedem die Moschee mal zu besuchen – am besten 30 Minuten vor dem Sonnenuntergang hinfahren um auch den Sonnenuntergang genießen zu können aber auch die Belichtung des Gebäudes bei Dunkelheit. Vor Ort gibt es ein Café um sich reinzusetzen und mit dem kostenlosen Wi-Fi kurz ein Post auf z.B. Instagram zu tätigen 🙂
---
Last Day
On Sunday Görkem and me departed from Dubai to Abu Dhabi. My flight to Germany was from the Abu Dhabi airport. In Abu Dhabi we went directly to the Sheikh Zayed Grand Mosque. This mosque is simply breathtaking! It is, as some Emiratis say: "A Palace!". I really can recommend it to everyone to visit the mosque – best timing is like 30 minutes before sunset to enjoy the sunset but also the exposure of the building on darkness. There is a Café with a free Wi-Fi to post for example on Instagram 🙂
Tipps
Was ich auch empfehle ist ein Mietwagen aufgrund der Flexibilität. Da auch der Sprit in den Emiraten im Vergleich zu Deutschland bekanntlich geschenkt ist, lohnt es sich definitiv ein Auto zu mieten. Höchstgeschwindigkeit auf der Autobahn ist 120 Km/h. Schneller kann nicht gefahren werden, da bei Überschreiten der 120 Km/h das Fahrzeug anfängt zu piepen, wie beim nicht angeschnallten Gurt. Wird dies ignoriert werden und schneller als 120 Km/h fährt, dann kommt der nächste Blitzer. Ich dachte Stuttgart ist schlimm was Blitzer angeht, jedoch ist Stuttgart kein Vergleich zu den Emiraten… Gefühlt jede 200 Meter kam immer, wirklich immer, ein Blitzer
---
Tips
Also, what I recommend is a rental car, due to the flexibility. The fuel price in the Emirates is really cheap compared to Germany, so it is worth to rent a car. Speed limit on the highway is 120 km / h (about 75 mph). Faster can not be driven, when exceeding the 120 km / h the vehicle starts to beep like when the belt is not fastened. I thought Stuttgart is one of the badest cities about speed cameras, but it is no comparison to the Emirates… Like every 200 meters there was a speed camera.
Ich hoffe doch, dass der Blogpost dem/der Leser/-in gefällt.
Während meiner Reise hatte ich auch die Möglichkeit im Penthouse des Warwick Hotels zu übernachten, mehr dazu: HIER
Gerne könnt ihr mich bei Fragen per E-Mail kontaktieren mr@emvoyoe.de
Euer Emre
---
I hope, that the reader enjoyed my blog post.
During my trip I had the opportunity to stay in the penthouse of the Warwick Hotel, more: HERE
If you got any questions, you can contact me with by E-Mail: mr@emvoyoe.de
Your Emre
Follow me on:
Instagram: @emvoyoe

Facebook: @emvoyoe
Snapchat: emvoyoee