Während meiner Reise in Berlin vom 16. – 18. Dezember, habe ich im Hotel Ku' Damm 101 übernachtet. Mehr über das Hotel im Post.
---
During my trip to Berlin from the 16th – 18th of December, I stayed at the Hotel Ku' Damm 101. More about the hotel in the post.

Entspannen im Hotel Ku' Damm 101
Das Hotel Ku' Damm 101 ist ein modernes und schön gestaltetes Hotel für einen nächsten Besuch in die Hauptstadt. Hier kannst Du dich einmal richtig verwöhnen lassen. Das 4-Sterne-Hotel bietet ausgezeichneten Service und Wellness zu fairen Preisen. Das Hotel an sich ist im Stil des Bauhaus-Vordenkers "Le Corbusier" gestaltet. Damit ist es auch das einzige Hotel Deutschlands in diesem Stil und wird dadurch schon selbst zu einer großartigen Sehenswürdigkeit in Berlin. Auch für umweltbewusste Reisende eignet sich das Ku' Damm 101 dank nachhaltigen Materialien perfekt.
---
Relax at the hotel Ku' Damm 101
The hotel Ku' Damm 101 is a modern and nicely designed hotel for your next visit to the German capital. This 4-star hotel offers excellent service and wellness at fair prices. The hotel itself is designed in the style of the Bauhaus inspiration "Le Corbusier". This makes it to the only hotel in Germany in this style and becomes also a great sightseeing in Berlin. The Ku' Damm 101 is also perfect for environmentally conscious travellers thanks to its sustainable materials.
Die Lage und Umgebung
Das Hotel befindet sich ganz zentral im Herzen der Stadt, im westlichen Abschnitt des Kurfürstendammes. Der Internationale Kongress befindet sich in unmittelbarer Nähe und auch Reisende auf einem Kurz-Trip durch die Landeshauptstadt können die Sehenswürdigkeiten im Westteil der Stadt schnell und problemlos erreichen. Einige Sehenswürdigkeiten in unmittelbarer Nähe sind unter anderem die Gedächtniskirche, das KaDeWe und der zoologische Garten. Auch Flughafen, Hauptbahnhof und Autobahn sind nahe gelegen. Die Parkgarage kann für 17 Euro pro Tag genutzt werden. Eine Reservierung ist dafür nicht nötig.
---
The location and surroundings
It is located centrally in the heart of the city, in the western section of the Kurfürstendamm. The International Congress is located close and even travelers on a short trip can reach the sights in the western part of the city quickly and easily. Some of the attractions like the Memorial Church, the KaDeWe and the Zoological garden are close. Also the airport, Central Station and highway are nearby. The parking garage can be used for 17 euros per day. It is not necessary to make a reservation.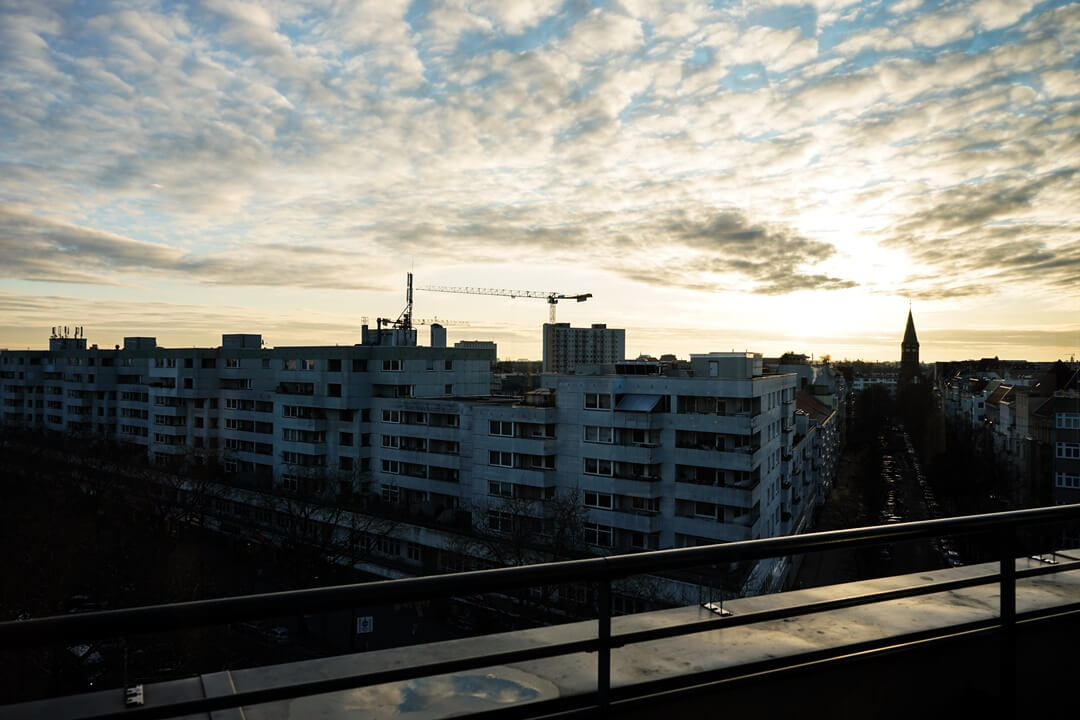 Das Frühstück
Während des Frühstücks kannst Du den Blick über die Dächer Berlins schweifen lassen. Der Frühstücksraum ist nämlich weit oben gelegen – 7. Stock – und ermöglicht eine fantastische Aussicht. Das Frühstück ist kreativ zusammengestellt und besteht aus leichten Spezialitäten. Dadurch kannst Du ganz abschalten und die erholsame Kombination zwischen dem zeitgemäßen Frühstück und dem Wellness-Bereich genießen.
---
The breakfast
During breakfast you can enjoy the view over the rooftops of Berlin. The breakfast room is located high – 7th floor – and offers a fantastic view. The breakfast is creatively composed and consists of light specialties. This way you can switch off completely and enjoy the relaxing combination between the modern breakfast and the wellness area.
Die Zimmer
Auf der Website des Hotels Ku' Damm 101 wird Dir die Bestpreisgarantie geboten. Das heißt, dass Dir garantiert der günstigste Preis angeboten wird. Insgesamt sind 170 Zimmer vorhanden, von denen 14 barrierefrei sind. Auch für Allergiker sind die Zimmer bestens geeignet, da sie teppichfrei und mit Boden aus Naturkautschuk ausgestattet sind. Die Möbel wurden teilweise von jungen, deutschen Designern entworfen und sind flexibel einsetzbar, sodass jeder Gast sein Zimmer individuell mitgestalten kann.
---
The rooms
On the website of the hotel Ku' Damm 101 it is offered the best price guarantee for you. A total of 170 rooms are available, 14 of them are barrier-free. The rooms are also ideal for allergy sufferers as they are carpet-free and equipped with natural rubber flooring. The furniture is partly designed by young German designers and can be used flexibly, so that each guest is able to design their own room individually.
Ausstattung der Zimmer und Service
In jedem Zimmer befindet sich eine regelbare Klimaanlage. Außerdem ist ein kostenloser Wlan-Zugang im Preis mit inbegriffen. Es gibt ebenfalls einen Safe im Zimmer, sowie an der Rezeption. Im Frühstücksbereich bzw. in der Lobby liegt die Berliner Tagespresse kostenfrei aus. Abgesehen davon verfügt jedes Zimmer über ein Bad mit Fußbodenheizung und Dusche oder Badewanne. Der Wellnessbereich kann kostenlos benutzt werden. Es gibt drei verschiedene Zimmerkategorien:
---
Room and service facilities
In each room there is a controllable air conditioning system. Free wireless Internet access is included in the price. There is also a safe in the room, also at the reception. The Berlin Daily Press is available for free in the breakfast area or in the lobby. Apart from that, each room has a bathroom with underfloor heating and a shower or bathtub. The wellness area can also be used for free. There are three different room categories:
– Standard Class
Die geräumigen Zimmer der Standard Class am Hotel nahe dem Kurfürstendamm sind flexibel und modern eingerichtet. Der Preis beträgt etwa 68 Euro pro Nacht.
---
The spacious rooms of the standard class at the hotel near the Kurfürstendamm are flexible and modern furnished. The price is about 68 euro per night.
– Comfort Class
Die Comfort Class des Designhotels bietet bis zu 30qm große Zimmer. Wie der Name schon sagt, wird durch die neueste Technik und moderne Ausstattung hoher Komfort erreicht. Bereits ab 78 Euro kann eine Nacht in einem solchen Zimmer gebucht werden.
---
The comfort class of this design hotel offers up to 30sqm large rooms. As the name suggests, the latest technology and modern equipment achieves high levels of comfort. From 78 euro a night can be booked in such a room.
– Upper Class
Die Upper Class wird ab 88 Euro angeboten. Hier wird Dir ein großes Zimmer mit viel Freiraum und außerdem einer geschmackvollen Einrichtung geboten. Die Ausstattung ist sehr hochwertig und zeitgemäß. Der Vorteil an dem Zimmern der Upper Class ist, dass sie von bis zu drei Personen belegt werden kann.
---
The upper class is available from 88 euro. Here you will find a large room with plenty of space and also a tasteful décor. The furnishings are very high quality and contemporary. The advantage of the upper class rooms is that it can be occupied by up to three people.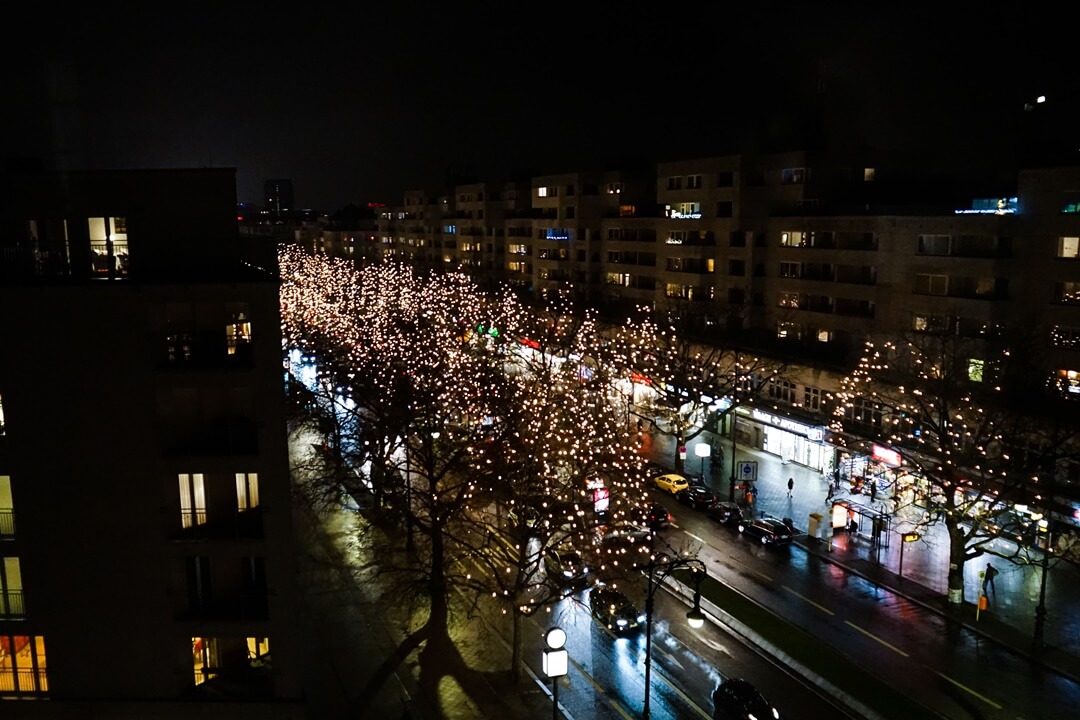 Fazit
Das Hotel ist definitiv empfehlenswert. Toller Service und sehr leckeres und vielfältiges Frühstück mit einem tollen Ausblick. Das Bett war sehr bequem und das Zimmer in der Upper Class, welches ich hatte, war sehr geräumig und mit einer tollen Aussicht auf den schön beleuchtete Kudamm. Freue mich schon auf meinen nächsten Besuch – vielleicht sogar schon im Januar 2018 zur Fashion Week Berlin. Bei Fragen kannst Du mich gerne per e-Mail kontaktieren.
---
Conclusion
The hotel is definitely recommended. Great service and very tasty and varied breakfast with a great view. The bed was very comfortable and the room in the upper class, which I had, was very spacious with a great view of the beautiful lightened Kudamm. Looking forward to my next visit – maybe even in January 2018 to Fashion Week Berlin. If you have any questions, please feel free to contact me by e-mail.

Ku' Damm 101 Hotel Berlin:
Instagram: @kudamm101
Facebook: Ku' Damm 101 Hotel Berlin
Homepage: www.kudamm101.com
Me on:
Instagram: @emvoyoe
Facebook: emvoyoe
Meine Trips in Berlin findest du indem Du hier klickst
---
You can find my trips in Berlin by clicking here