Der diesjährige Sommer ist voller Muster. Gemusterte Hemden werden immer öfter getragen, sei es ins Büro aber auch zu Festivals. Mein Casual OOTD ist perfekt für den Sommer.
---
This year's summer is about pattern. Patterned shirts are worn more and more, be it at the office or also to festivals. My casual OOTD is perfect for summer.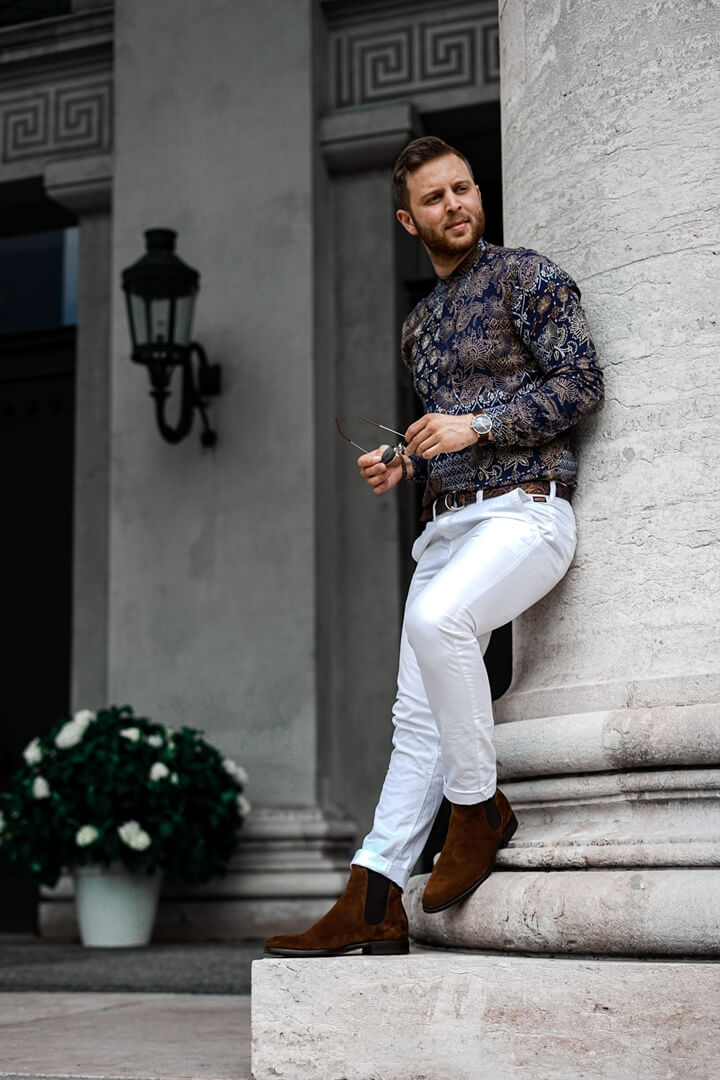 [Anzeige/Ad]
Gemusterte Hemden
Sommer heißt für gute Laune, Tageslicht noch spät am Abend und dadurch auch unvergessliche Momente mit Freunden zu erleben. Daher trage ich meine Sommer Outfits gerne mit hellen Farben. Wie auch schon in meinem OOTD Post: Dress like a Millionaire, trage ich erneut eine weiße Chino von Superdry.
Was dieses Outfit aber besonders macht, ist das gemusterte Hemd. Aufgrund meiner türkischen Wurzeln liebe ich orientalische Muster, welches auf diesem Hemd sehr schön verarbeitet wurde. Das Hemd, welches ich von Zara gekauft habe, ist in einem dunkel blauen Grundton mit weiß-gelb-orangefarbenem Muster.
Dazu trage ich tabakbraune Chelsea Boots von Scarosso (Model: Giancarlo Tabacco), die aus der neuen Kollektion sind. Apropos neue Kollektion: Die Sonnenbrille ist aus der neuen BEAT Serie von Ray-Ban, die dich fit für deinen Festival-Look machen. Die Uhr Atlas ist von MVMT und passt farblich perfekt zu den Boots und dem Rest des Outfits. Last, but not least: Wenn mein Hemd schon gemustert ist, dann trage ich einen Paisley Muster Gürtel von Kragü.
---
Patterned Shirts
Summer means good mood, even daylight late in the evening and also those experienced unforgettable moments with friends. That's why I like to wear bright colors in my summer outfits. As already in my OOTD post: Dress Like a millionaire, I'm wearing again  a white chino from Superdry.
But what makes this outfit special is the patterned shirt. Because of my Turkish roots, I love oriental patterns that have been beautifully added on this shirt. This dark blue shirt with a white-yellow-orange pattern is by Zara.
I also wear tobacco brown Chelsea boots by Scarosso (model: Giancarlo Tabacco), which are from the new collection. Speaking of new collection: The Ray-Ban sunglasses are from the new Beat series, which will give you the perfect festival look. The watch Atlas is by MVMT and suits perfectly with the boots and the rest of the outfit. Last, but not least: if my shirt is already patterned, then I wear a paisley patterned belt by Kragü.
Danke an Adem (@adembayalan) für die Fotos. | Thanks to Adem (@adembayalan) for taking the pics.

Der passende Duft?
Ted Baker hat drei neue Herren Düfte präsentiert. Und zwar die Tonics Kollektion – Silber, Gold & Kupfer. Ich habe mich für Silber entschieden, der ein sehr klassischer, zeitloser und unaufdringlicher Duft ist. Also perfekt für den traditionellen Gentleman formuliert, der das Leben schätzt – wie ich. Mit Noten von frischen Veilchen, kühlem Eukalyptus und rauchigem Leder setzt dieser Duft neue Standards für maskuline Eleganz.
Für mich als Maschinenbauer ist der Einsatz von hochwertigen Metallen im Maschinenbau von großer Bedeutung und so kann ich mich sehr gut mit dem neuen Tonics Silber Duft von Ted Baker identifizieren.
---
The right Fragrance?
Ted Baker has presented three new men's fragrances. The Tonics Collection – Silver, Gold & Copper. I decided myself for Silver, which is a very classic, timeless and unobtrusive fragrance. It is perfect for the traditional gentleman who appreciates life – like me. With notes of fresh violets, cool eucalyptus and smoky leather, this fragrance sets new standards for masculine elegance.
For me as a mechanical engineer, the use of high-quality metals in mechanical engineering has a high importance and thats why I can identify myself very well with the new Tonics Silver fragrance of Ted Baker.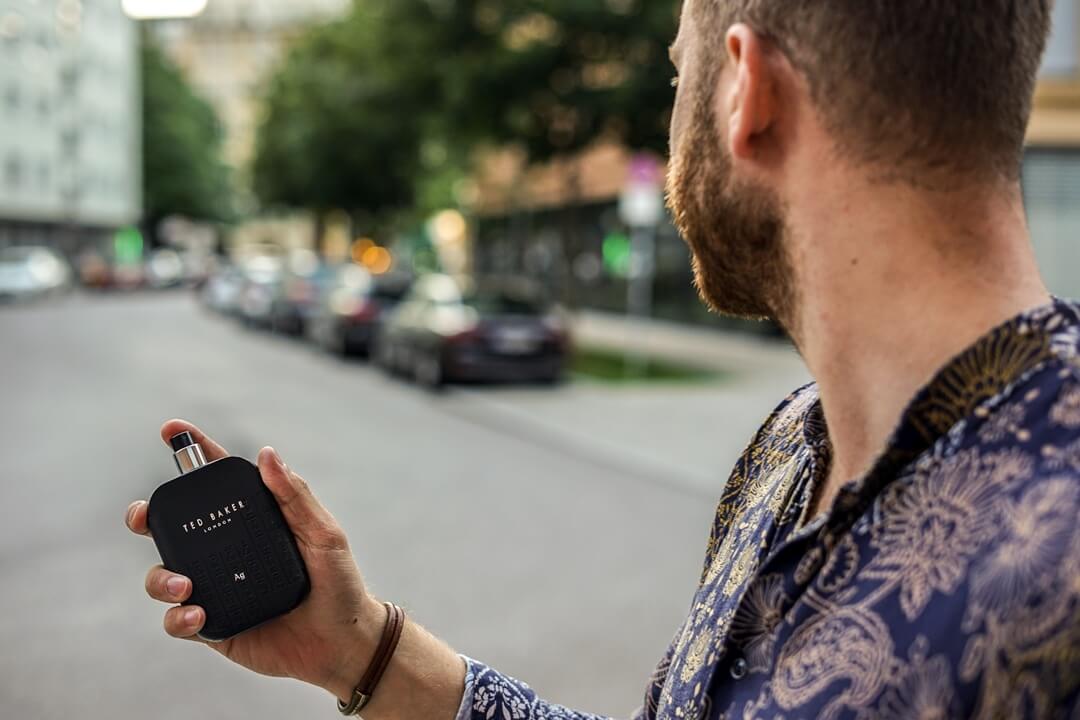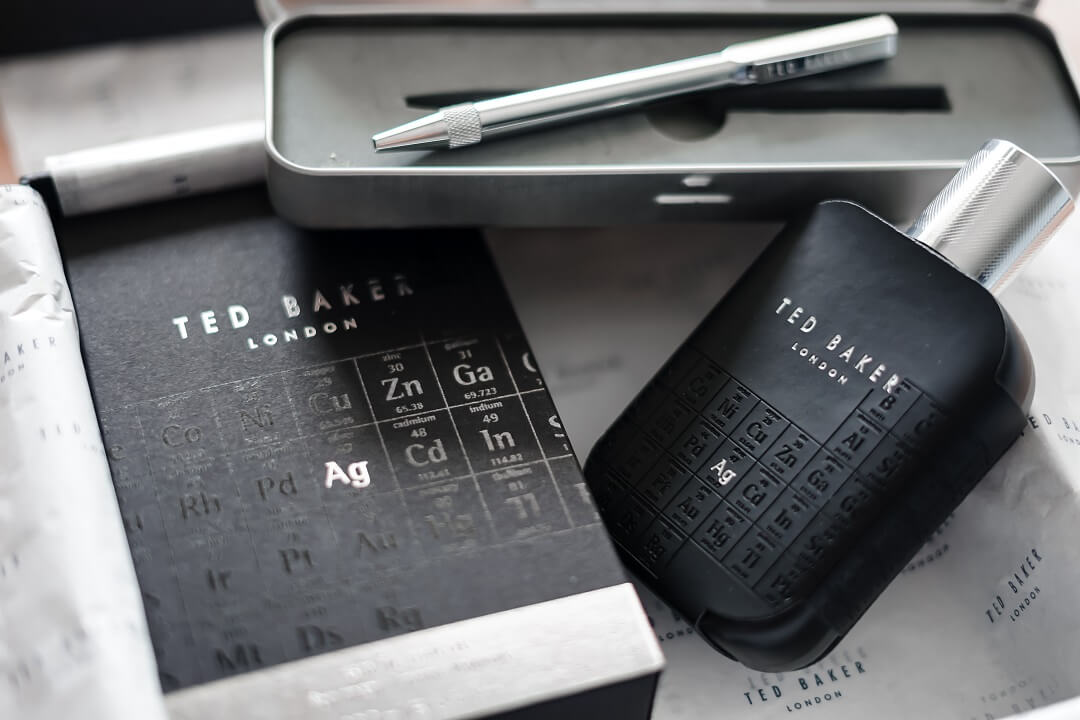 Rabatt Codes
Bei MVMT bekommst du mit dem Code emvoyoe15 einen Rabatt von 15$ (ca. 13€) auf deine Bestellung.
Mit dem Gutschein SOMMER20 gibt es bis zum 31.08. einen 20% Rabatt bei Scarosso.
Unten findest Du die gleichen oder ähnliche Artikel zum nachshoppen:
---
Discount Codes
At MVMT you get a 15$ (13€) discount on your order with the code emvoyoe15.
With the code SOMMER20 there is a 20% discount at Scarosso.
 Below you can find the or similar products to shop online:

Shop the OOTD

Hemden-Auswahl

---
Der Duft von Ted Baker wurde mir für Testzwecken ohne Entgelt zur Vergfügung gestellt.