Wer würde nicht gerne einmal in seinem Leben fliegen können? Dieses Gefühl, vollkommen frei und schwerelos zu sein, DAS muss einfach wunderbar sein. Die gute Nachricht ist, dass am 10. Februar das Flystation Munich in München-Neufahrn eröffnet hat und Du ab sofort selber fliegen kannst.
---
Who wouldn't like to fly once in his life? This feeling of being completely free and weightless must be wonderful. The good news is that on February 10th the Flystation Munich has opened in Munich and you can fly.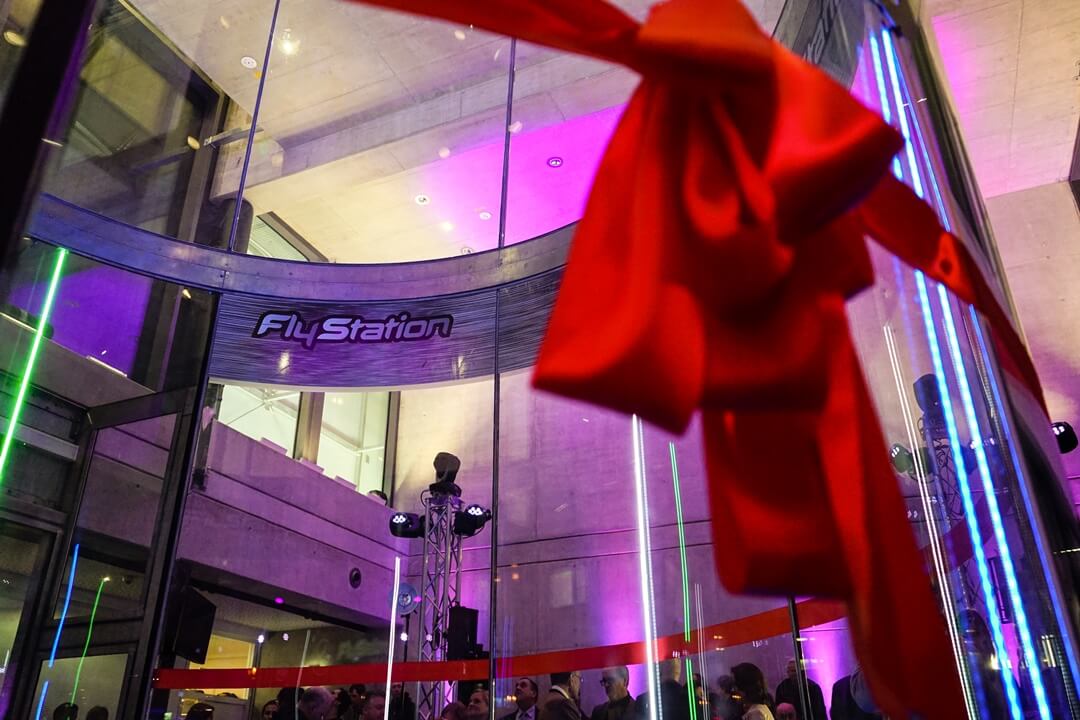 [Anzeige]
Jeder kann fliegen
Egal ob jung oder alt, Anfänger oder Fortgeschrittener, im FlyStation Munich kann jeder mitmachen, der Lust hat. Es gibt lediglich ein Mindestalter von 4 Jahren und eine maximale Gewichtsgrenze von 120 Kilogramm. Wer keine starken gesundheitlichen Einschränkungen hat, sollte einen ganz besonderen Moment zusammen mit Freunden, der Familie oder Arbeitskollegen verbringen. Einfach einen Termin ausmachen und in bequemer Kleidung und festen Schuhen (gibt es aber auch vor Ort zum Ausleihen) bei FlyStation Munich vorbeikommen. Den Anzug, den passenden Helm und die Schutzbrille gibt es vor Ort.
---
Anyone can fly
No matter if you are young or old, beginner or advanced, at FlyStation Munich everyone can join who wants to. There is only a minimum age of 4 years and a maximum weight limit of 120 kilograms. Those who don't have strong health restrictions can spend a very special moment together with friends, family or work colleagues. Just make an appointment and come in comfortable clothes and sneakers (there is also some to borrow) at FlyStation Munich. The suit, the matching helmet and the goggles will be given.
Die verschiedenen Pakete
Egal ob Du allein oder in der Gruppe in den Windkanal möchtest, es gibt für jeden das passende Paket. Inklusive Einweisung, Umziehen und Fliegen kann das Erlebnis bis zu zwei Stunden dauern. Der Flug im Tunnel fühlt sich dabei an, wie ein Fallschirmsprung aus 4.000 Metern. Aber keine Angst, es ist jederzeit ein erfahrener Trainer dabei, der mit Rat und Tat zur Seite steht. Für die kleinen Superman gibt es das Paket Kids Playtime. Es besteht aus einem 2-minütigen Flug und ist für Kinder von 4-15 Jahren geeignet. Das Pendant für Erwachsene ist das Paket Basic. Wer gerne länger im Tunnel das unvergleichliche Erlebnis des Bodyflyings erfahren möchte, für den gibt die Pakete Silver, Gold und Platinum. Hier kannst du den Nervenkitzel ganze 4, 6 oder sogar 10 Minuten genießen oder die Flüge unter deinen Freunden aufteilen.
---
The different packages
Whether you want to be alone or in a group in the wind tunnel, there is the right package for everyone. including instruction, changing clothes & flying, the experience can take up to two hours. The flight in the tunnel feels like a parachute jump from 4.000 meters. But don't worry, there is always an experienced trainer next to you who will help you. For the little supermen there is the package Kids Playtime. It consists of a 2-minute flight and is suitable for children of 4-15 years. The pendant for adults is the package Basic. For those who would like to experience the Bodyflyings in the tunnel for longer, the Silver, Gold and Platinum packages are available. You can enjoy here the thrill 4, 6 or even 10 minutes or divide the flights among your friends.
Familien- / Gruppenangebote
Für größere Gruppen, Geburtstags- oder Familienfeiern bieten sich die Pakete Family Pack 20 und Party Pack 30 an. Für 20 oder 30 Minuten haben hier auch Gruppen von 10-15 Leuten eine ganze Menge Spaß.
Wer einmal die Möglichkeit hatte, das Indoor Skydiving auszuprobieren, möchte das Erlebnis bestimmt so schnell wie möglich wiederholen. Wer den neuartigen Sport regelmäßig ausüben möchte, kann ganz einfach zum Profiflyer werden. Für Kinder gibt es das Superhero Programm. In den 10 Minuten im Windkanal werden hier Drehungen, der richtige Ein- und Austieg sowie Bewegungen im Tunnel erlernt. Für Erwachsene gibt es das Individual Paket inklusive 15 Minuten Bodyflying. Wer lieber im Team zum Meister des Windkanals wird, der nimmt am 30 minütigen Team Training für 2 Personen teil.
Alle Pakete können sofort gebucht oder als Gutschein verschenkt werden. Damit steht dem Adrenalin geladenen Actionspaß nichts mehr im Weg.
---
Family- / Group packages
For larger groups, birthdays or family celebrations, the Family Pack 20 and Party Pack 30 packages are available. For 20 or 30 minutes, groups of 10-15 people have a lot of fun here as well.
Those who once had the opportunity to try out the indoor skydiving, would like to repeat the experience as quickly as possible. If you want to practise the new sport regularly, you can easily become a professional flyer. For children there is the Superhero program. 10 minutes in the wind tunnel, rotations, the correct entry and exit and as well the movements are teached. For adults there is the Individual package including 15 minutes Bodyflying. Those who prefer to become the master of the wind tunnel in a team will take part in the 30-minute team training for 2 people.
All packages can be booked immediately or can given away as a voucher. So it's time for a adrenaline kick.
Ich hatte eine sehr tolle Flugerfahrung, daher werde ich sicherlich noch das ein oder andere mal im Windkanal fliegen. Da ich dieses Jahr Skydive in der Türkei in Ölüdeniz machen möchte, ist die Möglichkeit mit dem Windkanal eine super Vorbereitung.
Falls Du eine Frage haben solltest, einfach unten einen Kommentar hinterlassen oder per e-Mail kontaktieren an: mr@emvoyoe.de
---
I had a very great flight experience, so I'm sure I'll be flying in the wind tunnel one time or another. Since I want to skydive in Turkey this year, the possibility with the wind tunnel is a great preparation.
If you have any Questions feel free to leave a comment below or e-Mail me: mr@emvoyoe.de
FlyStation Munich:
Instagram: @flystation.de
Facebook: FlyStation Munich
Homepage: www.flystationmunich.de
Me on:
Instagram: @emvoyoe
Facebook: emvoyoe
click here for more fun & sports posts
---
Dieser Post in Zusammenarbeit mit FlyStation Munich entstanden.