Die meisten 90er Kinder werden es kennen: die Anime Serie "Detektiv Conan". In diesem Post möchte ich ein Outfit vorstellen, welches dem Charakter ähnelt.
---
Most 90s children will know it: the anime series "Detective Conan". In this post I want to introduce an outfit that is similar to the main-character.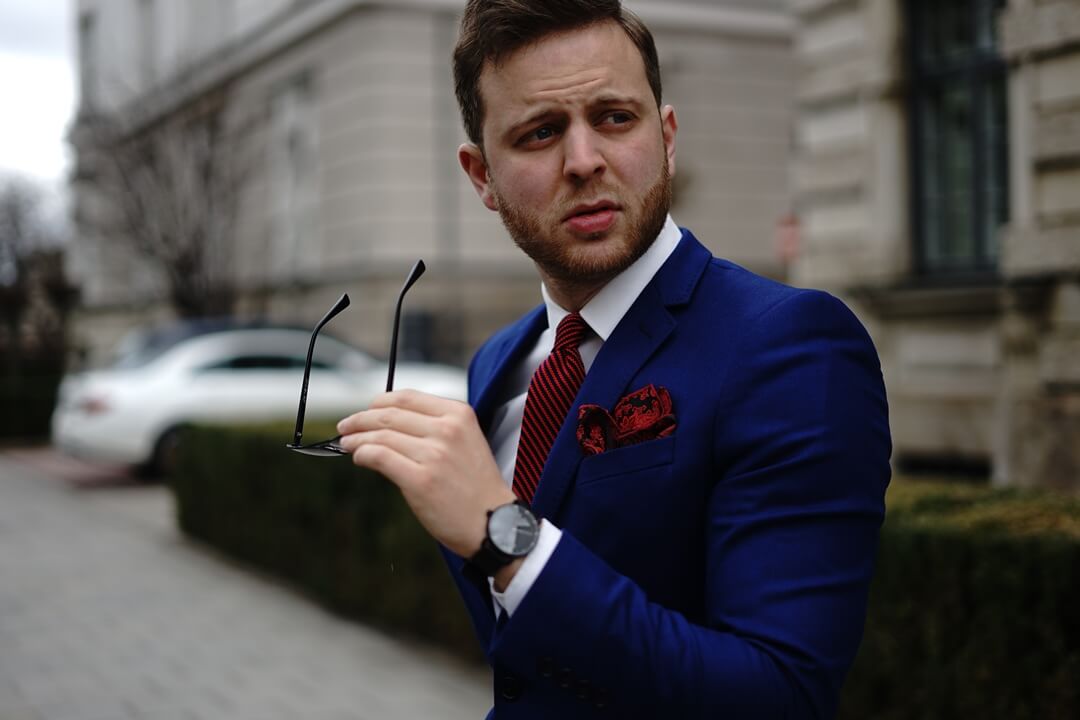 Detective Who?
Detektiv Conan ist eine seit 1994 laufende, international erfolgreiche Mangareihe. Die Handlung handelt vom 17-jährigen Oberschüler und Hobbydetektiv Shin'ichi Kudō, dessen Körper durch eine giftige Pille die Form eines Grundschülers annimmt. Daraufhin kommt er beim Privatdetektiv Kogoro Mōri unter und löst heimlich dessen Fälle auf. Die Serie lässt sich in die Genres Krimi und Komödie einordnen.
---
Detective Conan – also known as Case Closed  is an internationally successful manga series since 1994. It is about the 17-year-old high school student and hobby detective Shin'ichi Kudō, whose body changed into the form of a child from primary school because of a poisoned pill. Afterwards he lives with the private detective Kogoro Mōri and solves his cases secretly. The series can be classified into the genres of crime and comedy.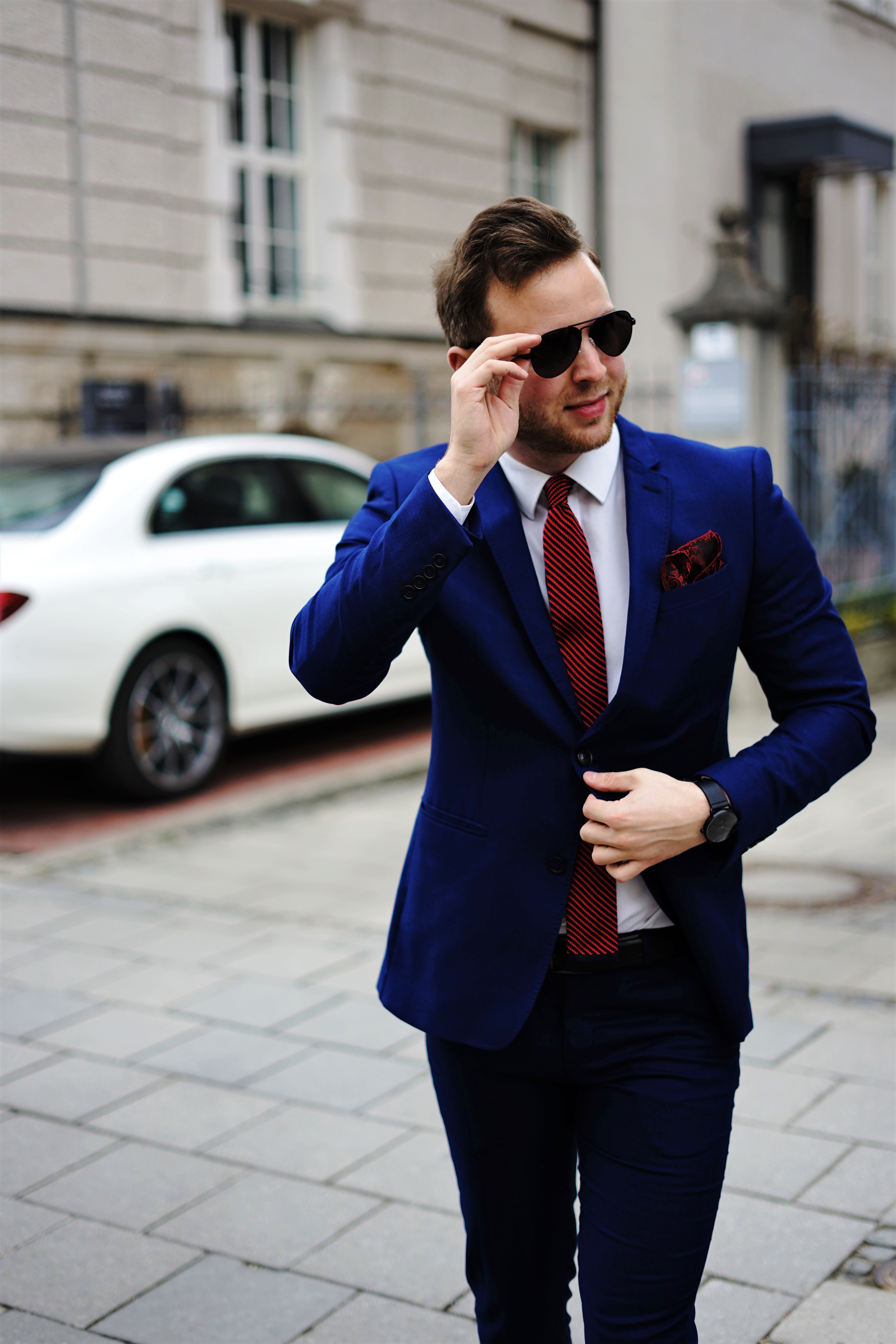 Outfit
Während dem Shooting mit Silke von @la_cecilia_munich, hatten wir ein tolles Wetter, so dass die Stimmung der Mitmenschen sehr gut war. Da königsblau eine auffallende Farbe ist, habe ich viele Blicke auf mich gezogen und dabei auch viel positives Feedback für die Kombination mit den Farben rot/schwarz erhalten. Sowohl von Personen in meiner Altersgruppe, aber auch von Personen, die viel älter sind als ich. Das so etwas in München passiert, ist eher selten.
Falls dir die Outfit-Inspiration auch gefällt, kannst du es gleich online shoppen. Ich habe ähnliche Bekleidungsstücke extra für dich rausgesucht. Die rot-blau gestreifte Strickkrawatte und das Einstecktuch im Paisley-Muster sind von OTAA und so nur dort erhältlich. Die Modellnamen der Uhr und Sonnenbrille sind Basin und Runaway welche von der Marke MVMT sind.
---
We had great weather while the shooting, with Silke from @la_cecilia_munich, so the people feeling well. Royal blue is an eye-catching color. That's the reason why a lot of people looked at me and gave me positive feedback for the combination with the colors red/black – from people in my age and also from people who are older than me. This happens really rare in Munich.
If you like the outfit inspiration, you can also shop it online through my blog. I've picked up similar clothing items for you. The red-blue striped knit tie and the paisley pocket square are from OTAA, where you can get the same there. The watch and sunglasses are named Basin and Runaway which are by the brand MVMT.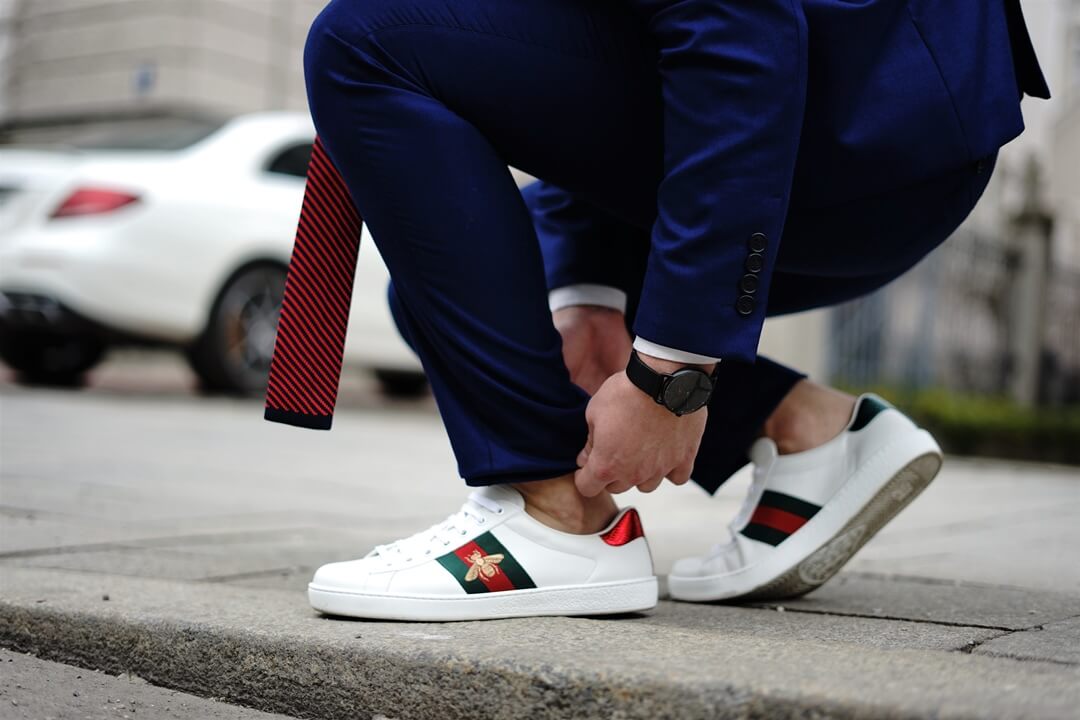 Outfit:

---
Günstigere Alternative | Cheaper alternative:
---

Accessories:
Krawatten & Einstecktuch | Ties & pocket square:
---
Für OTAA's Shop – klick hier | Click here to shop from OTAA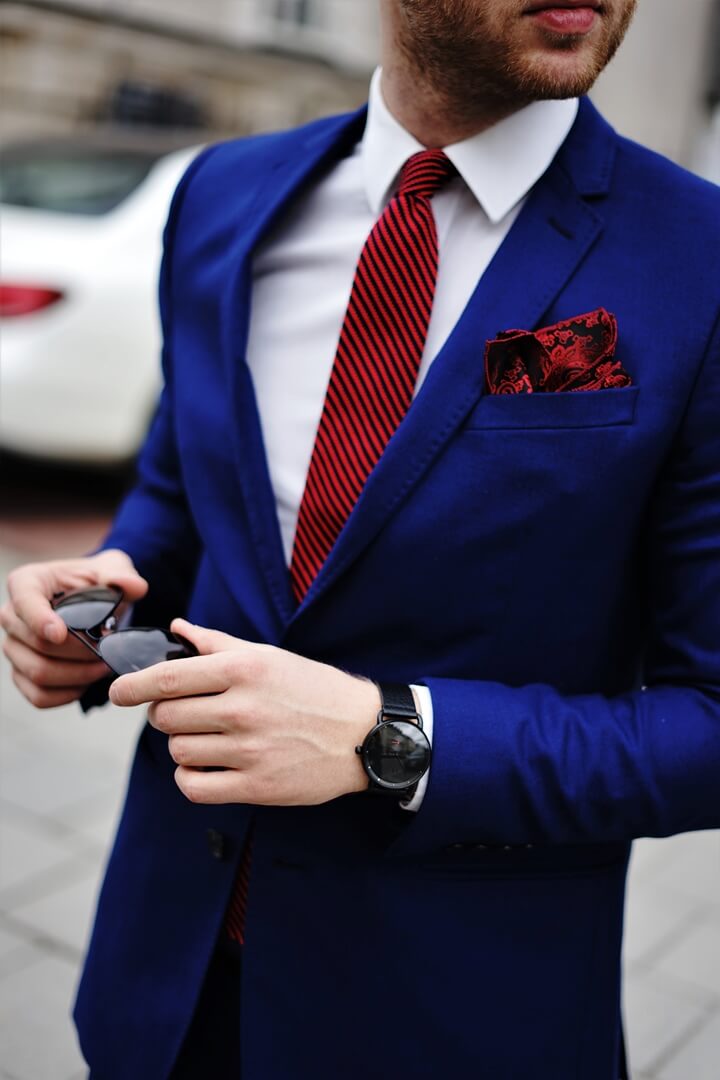 Uhren & sonstiges| Watches & others:
(Erhalte mit "emvoyoe15" einen Rabatt bei MVMT | Get a discount with "emvoyoe15" at MVMT)
---
Weiteres Outfit im Anzug findest du hier | Here you can another outfit with a suit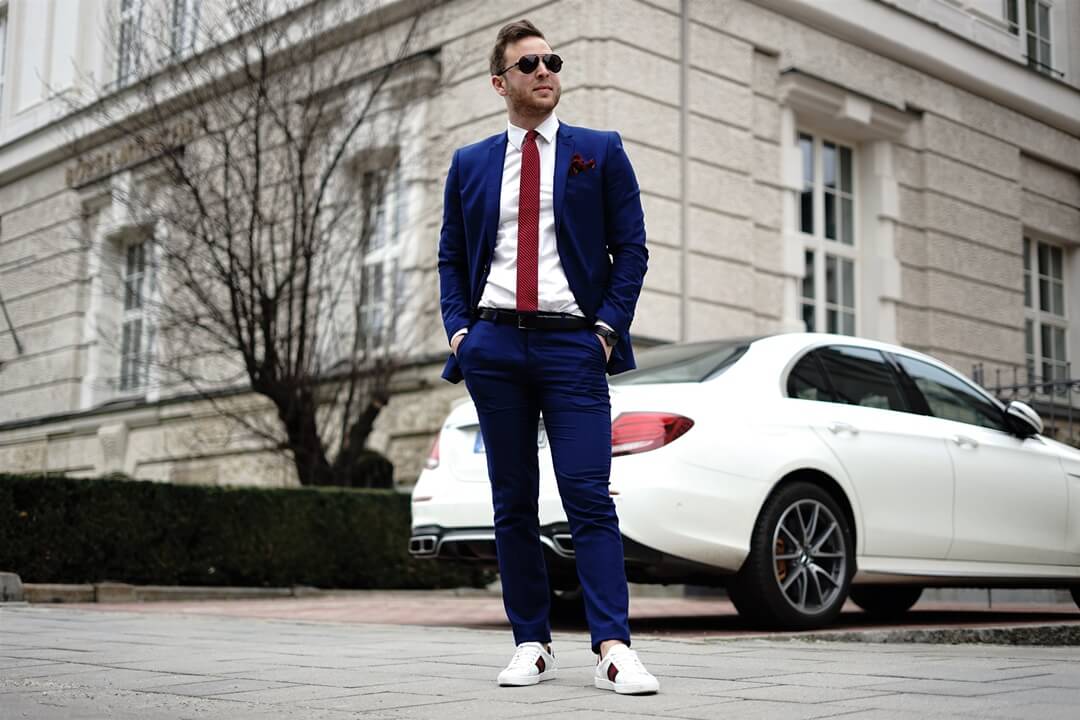 Zum Abschluss ein Video über das Intro von Detektiv Conan | Last but not least a video about the intro of Detective Conan
---
Die Produkte von MVMT & OTAA wurden mir als PR-Samples zur Verfügung gestellt.