Der Urlaub ist vorbei und nun ruft die Arbeit wieder. Aus diesem Anlass habe ich für dich ein Outfit Vorschlag wie du stylish mit einem Karo-Muster Anzug im Büro antrittst.
---
The vacation is over and now work is calling again – so back to work. On this occasion I have a new outfit inspiration for you to come back in a stylish plaid patterned suit at office.
Bye Summer 2018
Ich hoffe doch du hattest einen schönen Sommerurlaub und konntest dich gut vom Arbeitsstress erholen. Die angesagtesten Sommer Urlaubsziele waren, soweit ich es in den Stories verfolgen konnte, Antalya, Bodrum & Cesme in der Türkei, Ibiza & Mallorca in Spanien, aber auch Kroatien, wie z.B. Split oder Zrce. Für mich ging es Ende Juli mit meinen besten Jungs auf einen Roadtrip nach Bosnien und Kroatien.
Den August habe ich, aufgrund der Klausurenphase in der Uni, komplett in München verbracht. Wir hatten ja diesen Sommer echt bomben Wetter in Deutschland! Da kann sich echt keiner beschweren, dass wir in Deutschland einen schlechten Sommer hatten, hehe. Ich war z.B. mit meinem SUP Board am Starnberger See (mehr zum Thema SUP hier). Für diese Woche ist ja nochmal sehr gutes Wetter vorausgesagt. In München soll es bis zu 28°C werden und das Mitte September – Wahnsinn! 🙂
---
I hope you had a nice summer vacation and get rest well from work stress. The summer vacation hotspots were, as far as I could see in the stories, Antalya, Bodrum & Cesme in Turkey, Ibiza & Mallorca in Spain and also Croatia, like Split or Zrce. At the end of July I've been with my buddies on a road trip at Bosnia and Croatia.
I spent the whole August in Munich, due to the exams at university. We really had a stunning weather in Germany this summer! Nobody can complain that we had a bad summer in Germany, hehe. Like I went to Lake Starnberg with my SUP board (more about SUP here).
The weather forecast also says that we are going to have great weather conditions again for this week. In Munich it is going to be 28°C, middle of September – crazy! 🙂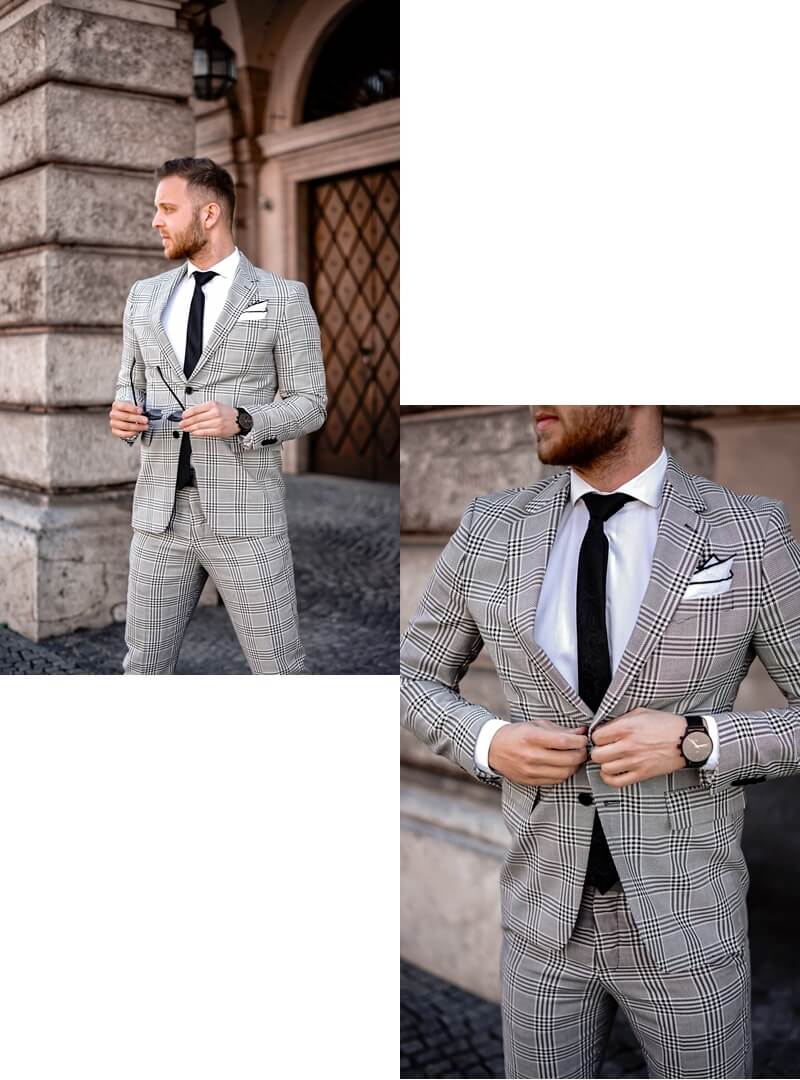 Back to Work
Um bestens im Job wieder durchzustarten, habe ich für dich ein Outfit Vorschlag, bei dem der ein oder andere Kollege dir definitiv ein Kompliment machen wird. Wie dir wohl auch schona aufgefallen ist, wird dieses Jahr das Karo-Muster sehr viel getragen. Einen grauen Anzug mit schwarz-weiß Muster habe bei Zara gefunden. Dazu eine schwarze Krawatte mit schwarzem Paisley Details und ein weißes Einstecktuch mit schwarzer Umrandung von OTAA.
Für dich habe ich ähnliche Kleidungsstücke wie Anzüge, Krawatten und Einstecktücher zum online shoppen unten verlinkt. Die gleiche Krawatte bzw. das gleiche Einstecktuch bekommst du direkt auf der Seite von OTAA:
---
To start great at work again, I have an outfit inspiration for you, which will definitely get you compliments by your colleagues. As you probably noticed, this year plaid pattern are worn a lot. I've found a grey suit with a black and white pattern at Zara. A black tie with black paisley details and a white pocket square with a black edge are by OTAA.
I have already picked out similar items like suit, ties or pocket squares to shop online where you find below. You get the same tie or the same pocket-square at the online shop of OTAA: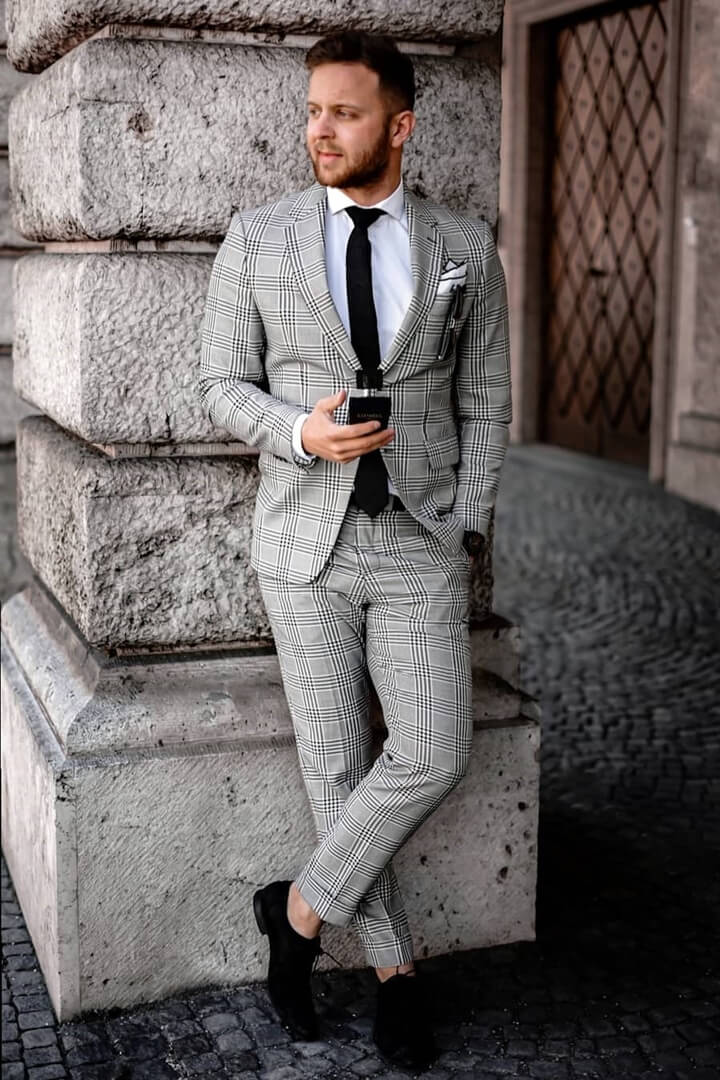 Accessoires
Wer einen starken Eindruck hinterlassen möchte, muss auch gut riechen! Einer meiner neuen Lieblingsdüfte ist der Duft Love Affair von Eisenberg. Dieser wirkt für mich elegant und leicht süßlich.
Zum Anzug trage ich schwarze Schnürer von Zara und einen schwarzen Gürtel von BOSS. Den Look vervollständige ich mit meinen Accessoires wie Uhr und Sonnenbrille von MVMT. Die Uhr wirkt durch das schwarze Mesh Armband und den rosé-goldenen Zeigern luxuriös. Die Verarbeitung von MVMT liebe ich einfach. Stylishe Uhren für wenig Geld! Ah ja – für deine MVMT Bestellung, seien es Uhren oder Sonnenbrillen, bekommst du mit dem Code emvoyoe15 einen 15$ Rabatt.
---
If you want to leave a strong impression you need to smell good! One of my new favourite fragrances is the fragrance Love Affair by Eisenberg. For me, this one smells elegant and a bit sweet.
For the suit I wear black lace-ups from Zara and a black belt by BOSS. I complete the look with my accessories like watch and sunglasses by MVMT. The watch has a luxurious effect thanks to the black mesh strap and the rose-gold hands. I simply love the product quality of MVMT. Stylish watches for less money! Ah yeah – for your MVMT order, if watches or sunglasses, you'll get a $ 15 discount with the code emvoyoe15.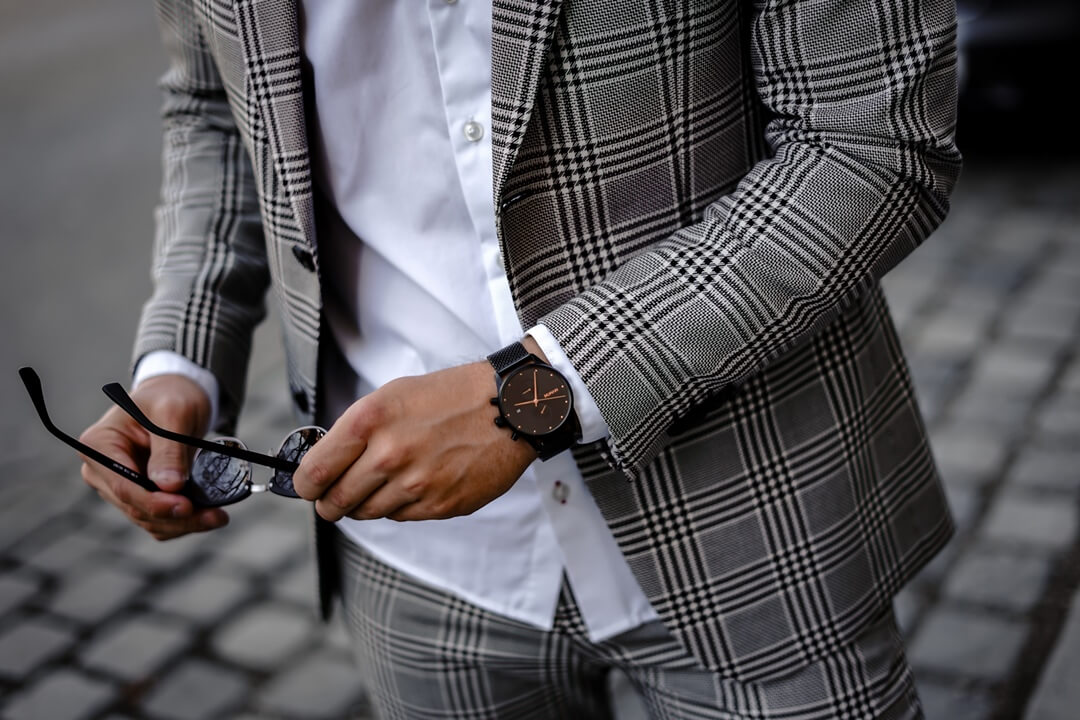 Thanksss
Ich hoffe der Look gefällt dir!
Weitere Looks findest du hier:
Feeling like Detective Conan | OOTD
HIRMER Menstyle – Anzug Trends 2018

& stylische Hemden hier:
Gemusterte Hemden | Patterned Shirts | OOTD
Danke für deine Zeit.
Genieße das gute Wetter diese Woche!
Viele Grüße aus München – Emre
---
I hope you like the look!
You can find more looks here:
Feeling like Detective Conan | OOTD
HIRMER Menstyle – Anzug Trends 2018

& stylish shirts here:
Gemusterte Hemden | Patterned Shirts | OOTD
Thank you for your time.
Enjoy the awesome weather this week!
Greetings from Munich – Emre
---
Dieser Blogpost wird als Werbung gekennzeichnet, da Markennennung. Die verlinkten Produkte sind mit Affiliate Links hinterlegt.