Für einen Frische-Kick für meine Haut während meinen Reisen benutze ich die neuen Hydra Energy Produkte von L'Oréal Men Expert, die auch in Sylt auf der diesjährigen Windsurf WM 2018 mit dabei war.
---
For a fresh kick for my skin while traveling I use the new Hydra Energy products by L'Oréal Men Expert, which were also present at this year's windsurf World Cup on Sylt.

[Anzeige | Ad]
Reisen: Istanbul & Paris
Das Reisen – für manche ist es der Weg zum Urlaub und Erholung und für manch andere der Beginn für stressige Geschäftstage. So auch bei mir. Für mich ging es Mitte September nach Istanbul in den Urlaub. Dort habe ich es mir gut gehen lassen, sei es ein toller Brunch am Bosporus oder auch das Erkunden der kulturellen Geschichte. Auch so ein Städteurlaub macht müde. Damit meine Haut auch im Urlaub fit bleibt, habe ich meine neuen Produkte von L'Oréal Men Expert – die Hydra Energy Serie mitgenommen. Vor allem verwendete ich in Istanbul die 24 Stunden Feuchtigkeitspflege, da ich den ganzen Tag unterwegs war und nach einem langen Tag die Haut doch etwas Müdigkeit zeigen kann.
Nach Istanbul ging es für mich dann für eine Geschäftsreise nach Paris. Wer kennt das nicht, der Wecker klingelt um kurz nach fünf bzw. sechs Uhr. Geschäftsreisen sind ja oftmals mit Terminen überfüllt. Das frühe Aufstehen und dann voll konzentriert arbeiten ist doch nicht so einfach. Dazu ist meine Lösung, das neue Hydra Energy Waschgel mit Aufwachkick von Men Expert. Nach der Anwendung am Morgen ist der Start in den Tag leichter! Ah ja, diese Woche fliege ich mit dem Team Men Expert nach Berlin zur Charity Veranstaltung von Barber Club & Movember. Zur Barber Club Serie habe ich einen Blogpost verfasst: Klick hier
Nun ein paar Infos zu den neuen Produkten:
---
Traveling: Istanbul & Paris
Traveling – for some it is the way to vacation and to relax and for many others the start for stressful business days. In mid-September I've went on holiday Istanbul. I let myself go well there, had great brunch on the Bosphorus or also exploring the cultural history. Even so a city trip makes you tired. In order to keep my skin fit even on holiday, I took my new products from L'Oréal Men Expert – the Hydra Energy series. Especially in Istanbul I used the 24 hours of moisturizing because I was outside all day and after a long day the skin can show some tiredness.
After Istanbul I went for a business trip to Paris. Who doesn't know that, the alarm rings at five or six o'clock. Business trips are often fully packed with a lot of meetings. Getting up early and then working with full focus is not that easy. For this my solution is the new Hydra Energy cleanser with a wake up kick by Men Expert. You start better in your day after using it. Oh and this week, the Men Expert team & me will fly to Berlin for the charity event of Barber Club & Movember. I have written a blog post about the Barber Club series: Click here

Now some infos about the new products:
Hydra Energy Serie
Die Men Expert Hydra Energy Pflegeserie gibt Müdigkeitsanzeichen keine Chance, sei es im Urlaub oder auf Geschäftsreisen. Die Serie wird, dank einer verbesserten Formel, erweitert. Die neue Formel enthält Guarana, welches ein natürlicher Wirkstoff aus den Samen der Guarana-Pflanze gewonnen wird. Diese enthält viel Vitamin-C wodurch die Haut belebt wird und für eine 24 Stunden anhaltende Frische- und Anti-Müdigkeits-Gefühl sorgt. Interessant zu wissen ist, dass Guarana 4x mehr Koffein als Kaffee enthält! Kein Wunder, dass die neuen Produkte mich fit halten – Danke hierfür Men Expert.
Hydra Energy Waschgel mit Aufwach-Kick:

wurde speziell für müde Männerhaut entwickelt und bietet einen Aufwach-Kick am Morgen. Die Haut, welches tiefenwirksam gereinigt wird und dadurch Hautunreinheiten beseitigt werden, wird durch das Menthol nicht nur erfrischt, sondern auch auf eine mögliche Rasur vorbereitet. Vorallem stärkt das Waschgel die Widerstandskraft der Haut durch das "Active Defense System", welches ein leistungsfähiger Aktiv-Wirkstoffkomplex ist. Aufzutragen am Morgen nach dem Aufwachen. (Schritt 1)

Hydra Energy Feuchtigkeitspflege 24H Anti-Müdigkeit;

bekämpft den ganzen Tag lang fünf Zeichen müder Männerhaut:

mildert Augenringe
hydratisiert, welches die Haut belebt
festigt die Haut
verbessert das Hautbild
lädt die Haut mit Energie auf durch die neue Formel mit Guarana und Vitamin-C
Die Feuchtigkeitspflege mit der leistungsfähigen Aktiv-Wirkstoffkomplex "Active Defense System" sorgt dafür, dass die natürliche Widerstandskraft der Haut gestärkt wird. Morgens und abends auf die gereinigte Haut auftragen und Augenkontakt vermeiden. (Schritt 2)
Hydra Energy 2 in 1 Shavecare – die Innovation:

bietet Aftershave und Pflege in einem Produkt. Es spendet Feuchtigkeit und pflegt das Gesicht. Vorallem liebe ich dieses Produkt nach dem rasieren, denn es löscht Rasurbrand und mildert Hautirritationen. Weitere Pluspunkte sind, dass es nicht fettet und schnell einzieht. Morgens und abends auf die rasierte oder gereinigte Haut auftragen. Das Beste ist, Mann kann es sowohl nach der Rasur als auch als tägliche Gesichtspflege verwenden.
Weitere Infos zu den Produkten findest Du auf der Homepage
---
Hydra Energy Serie
Men Expert Hydra Energy Care series gives no chance to a sign of fatigue, be it on vacation or on business trips. The series is increases thanks to an improved formula. The new formula contains Guarana, which is a natural active ingredient extracted from the seeds of the guarana plant. This contains a lot of Vitamin C which stimulates the skin and provides a 24-hour freshness and anti-fatigue feeling. Interesting to know is that Guarana contains 4x more caffeine than coffee! No wonder why the new products keep me fit – Thanks for this Men Expert.
Hydra Energy face cleanser with wake-up kick:


has been specially developed for tired men's skin and offers a wake-up kick in the morning. The skin, which is purified deep and thus eliminates skin impurities, isn't only refreshed by the menthol, it gets also prepared for a possible shave. Above all, the cleanser strengthens the resistance of the skin through the "active defense system", which is a powerful active ingredient complex. Need to be applied in the morning after waking up. (Step 1)

Hydra Energy Moisture Care 24h anti-fatigue:


Fights five signs of tired men's skin all day long:

s

oftens eye rings

hydrating, which revitalizes the skin

strengthens the skin

improves the skin

loads the skin with energy on through the new formula with Guarana and Vitamin C
The moisturising treatment with the powerful active agent complex "active defense system" ensures that the natural resistance of the skin is strengthened. Apply morning and evening on the cleaned skin and avoid eye contact. (Step 2)
Hydra Energy 2 in 1 Shavecare – the innovation:

offers aftershave and care in one product. It moisturizes and nourishes the face. Above all I love this product after shaving, because it stops razor bumps and softens skin irritation. Other advantages are that it doesn't get fat and feeds fast. Apply morning and evening to the shaved or cleaned skin. You can use it as a after shave or as a daily face care.
You can find more information about the products on the homepage
Windsurfkurs Starnberg & Windsurfing
Beim Windsurfen, welches eine Wassersportart ist, steht man auf einem Surfbrett. Das Surfen wird durch ein Segel, welches dreh- und kippbar in der Mitte mit dem Brett verbunden ist, realisiert. Ich habe einen Windsurfkurs mit dem Team Men Expert am Starnberger See, südlich von München, gemacht. Das sieht echt sehr schwer aus und auf Google kommt bei der Sucheingabe "Ist windsurfen schwer?" ganz oben. Meiner Meinung nach ist es anfangs etwas gewöhnungsbedürftig, auf dem Board zu stehen und das Segel aus dem Wasser zu holen. Doch sobald man dies kann, ist es nur noch eine Sache des Gleichgewichtes. Ok gut vielleicht bin ich da auch schon etwas fitter was dies angeht, unter anderem aufgrund meiner Stand-Up Paddeling Erfahrung mit L'Oréal Men Expert in Scharbeutz. Wie das SUP geht, habe ich hier im Blogpost für Dich zusammengefasst: How to Stand Up Paddle with L'Oréal Men Expert Barberclub
Nun, wie geht Windsurfen? Dazu habe ich ein Video aus Youtube hinzugefügt:
---
Windsurfing Course Starnberg & Windsurfing
Windsurfing, which is a water sport, is on a surfboard. The surfing is realized by a sail, which is connected to the board in the middle. I made a windsurfing course with the team Men Expert at Lake Starnberg, south of Munich. This looks really difficult and Googles proposal when searching "is windsurfing hard?" is at the top. In my opinion at the beginning it really is to stand on the board and getting the sail out of the water. But after successing that, it's just a matter of balance. Ok well maybe I'm already a little fitter about this,  because of my Stand-Up Paddling experience with L'Oréal Men Expert in Scharbeutz. I have summarized in the blogpost how to SUP for you here:  How to Stand Up Paddle with L'Oréal Men Expert Barberclub
Well, how's windsurfing? To do this, I added a video from YouTube: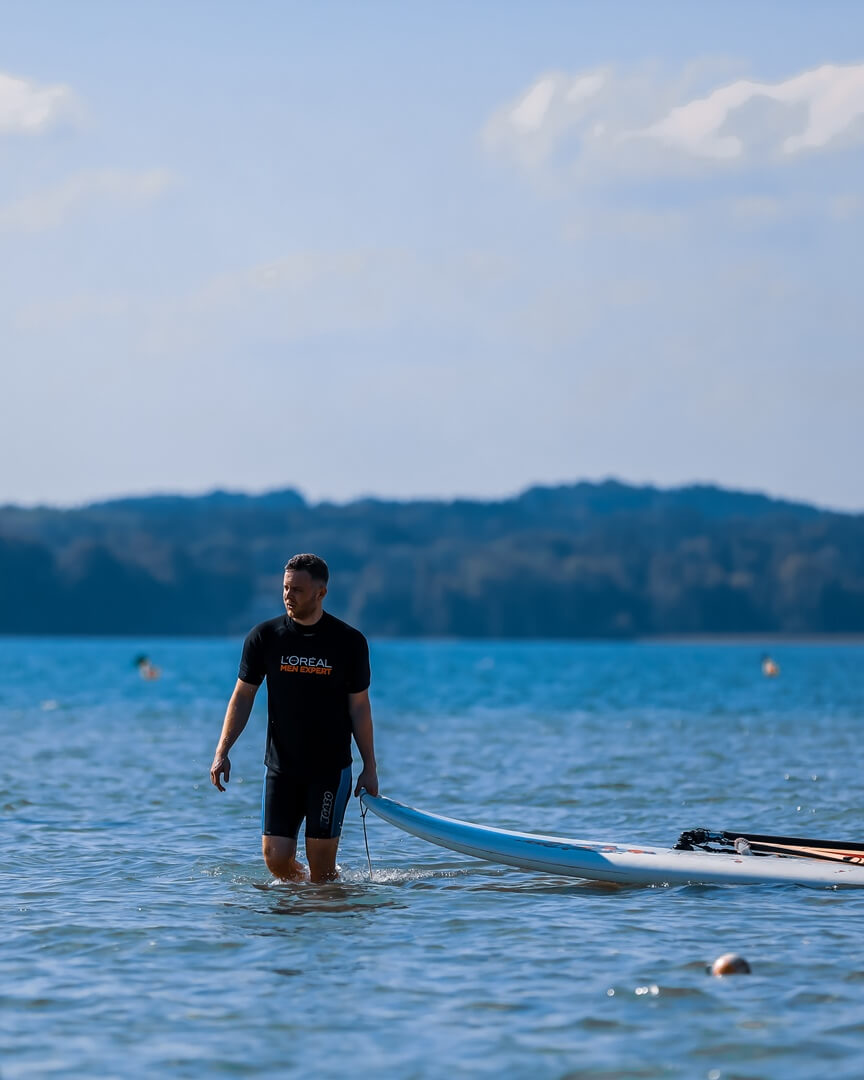 Windsurf World Cup 2018 Sylt
Vom 28.09. bis zum 07.10. fand auf der Halbinsel Sylt die Windsurf WM statt. Wie schon bei der SUP WM 2018, ist L'Oréal Men Expert auch ein Sponsor der diesjährigen Windsurf WM. Trotz schönem Sonnenschein war das Wetter in Norddeutschland sehr windig. Als Süddeutscher ist einem natürlich kalt. Im Men Expert Bereich konnten sich die Gäste und Sportler mit den neuen Produkten verwöhnen lassen.
Mehr Impressionen zu Sylt:
---
From 28.09 to 07.10, the Windsurf World Championships took place on Sylt. L'Oréal Men Expert is also a sponsor of this year's Windsurf World Cup, like before at the SUP World Cup. Despite the sunshine, the weather in northern Germany was very windy. As a south German, it feels really cold. In the Men Expert area, the guests and sportsmen could test the new products.
More impressions from Sylt:
Danke Dir für deine Zeit und Deinem Interesse. Bei Fragen zu den Produkten kannst Du mich gerne jederzeit per e-Mail kontaktieren. Danke an Wulli (@wuuulli) für die Fotos von Sylt.
---
Thanks for your time and interest. If you have any questions, feel free to send me an e-Mail. Thanks to Wulli (@wuuulli) for the pics from Sylt.